Dental Toothache (Tooth Pain)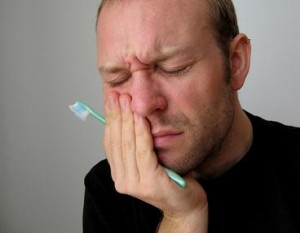 I Have A Tooth Ache, What Should I Do?
Some possible reasons for a dental tooth ache or tooth pain are:
Perhaps you've had some trauma to the tooth.
You may have fractured a tooth
You may have deep decay in a tooth.
You may be grinding your teeth.
What Are Symptoms Of A Toothache?
You may have some sensitivity to hot or cold.
You may have some aching.
You may have some biting pressure sensitivity.
There may be swelling along with tooth pain.
What Should You Do?

It is important to call Dr Wildern and schedule an exam. At the office Dr Wildern will take a digital xray and do an exam to determine what your tooth problem may be. After the problem has been diagnosed Dr Wildern will discuss options for treatment with you. You will decide together with Dr Wildern what treatment will be best for you and then proceed with the treatment that is needed on your tooth.
We Are Proud To Provide Emergency Dental Appointments And Understand That Same Day Dental Care Is Important.
Dr. Wildern has been a Dentist in Grand Rapids for thirty years and has always had available appointments Monday though Friday. We work Monday until 6:00 pm and Wednesday evening until 8:00PM, we also offer appointments at 7:00AM on Fridays.
Hours
Monday: 8 a.m. – 6 p.m.
Tuesday: 8 a.m. – 5 p.m.
Wednesday: 12 p.m. – 8 p.m.
Thursday: 8 a.m. – 5 p.m.
Friday: 7 a.m. – 4 p.m. every other week
Address
Wildern Dental
Grand Rapids,